Virgin Silky Straight Hair Extensions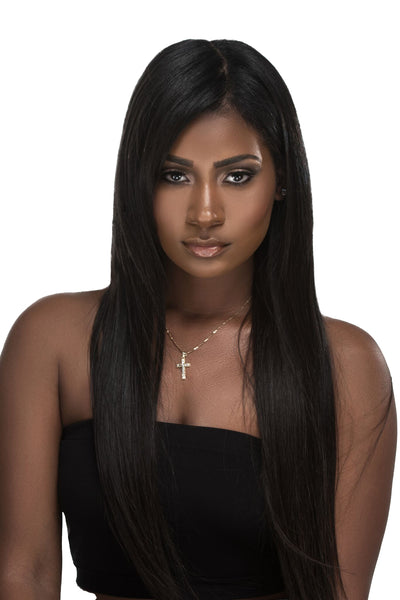 Virgin Silky Straight Hair Extensions
$125.00$135.00
Our Silky Straight Hair Extensions are bone straight and naturally smooth in nature and will allow you to create this look without using a flat iron.  Straight Hair Extensions provides easy maintenance and can also be styled and set to create any desired wavy or curl pattern.
Product Description
Completely Unprocessed 100% Virgin Indian Hair
Approximately 4oz each bundle
Natural Black to Dark Brown 
Machine Wefted
All Lengths measured pulled straight
Amount Needed for Full Head : 2 bundles, 3 bundles for longer lengths past 18"
Can be curled or flat-ironed : Yes
Can be colored or texturized : Yes
Requires Professional Application: Yes
Frequently Asked Questions
Treat this hair like your own hair. Use good quality shampoo and conditioning products. Conditioning your hair is very important to keep it soft and manageable. We recommend using a deep conditioner on your Indian hair twice a month, but avoid using oil or heaving styling products.
Yes, this is 100% virgin human hair which is not processed in any way, but we highly recommend that you consult with a professional hair stylist about coloring or processing your hair.
Yes, however, Virgin Human Hair blends perfectly well with any hair texture.
We specialize in the highest quality non-shedding tangle free virgin Indian hair.
Our hair will last over a year but can last much longer with proper treatment and care. Constant heat-styling, coloring and improper care will significantly shorten the life span of the hair.
Since, wefts are sold by weight, how wide a weft is depends on the actual length of the hair – the longer the hair, the shorter the width of the weft. Therefore, in order to cover a larger area of your head you should probably purchase 2 or 3 bundles of hair.
Wefted hair is hair used for weaving. Hair "weft" pieces are made by sewing hair together on the root side of the hair and keeping it freely hanging on the tip side, making it look like a hair curtain. Our hair wefts are machine made using a specialized sewing machines (Machine Weft). Machine wefts are a bit thicker, but since its stitches are highly reinforced, the weft can be cut at any place without unraveling. These are the most desired by hair stylists.
Remy hair is gathered from the head of donors/producers in such a way as to keep the hair's cuticles properly aligned; the roots of the hair are on one side and the tip of the hair on the opposite side. This helps the hair strands stay aligned in the natural direction as it grew.
Virgin Indian Hair is hair that is completely unprocessed or colored. It is 100% natural Indian hair. Indian hair is lustrous and thick, and more durable than other hair. Its texture and natural color works well for hair weaving applications. Virgin Indian hair is natural. It looks natural and behaves like your own natural hair. That is why it blends beautifully with your own hair.